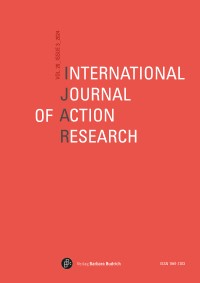 IJAR – International Journal of Action Research provides a forum for an open and non dogmatic discussion about action research, regarding both its present situation and future perspectives. This debate is open to the variety of action research concepts worldwide. The focus is on dialogues between theory and practice.
The journal is problem driven; it is centered on the notion that organizational, regional and other forms of social development should be understood as multidimensional processes and viewed from a broad socio-ecological, participative and societal perspective.
IJAR is a refereed journal and published three times a year. The editors invite contributions from academic social sciences, giving special attention to action research and action research practice, to conceptual and theoretical discussions on the changing worlds of work and society.
-----
IJAR: Free Online Access for 1 Month:
On the occasion of the ARNA 2017 Conference (June 12 – 16, Cartagena, Colombia) we offer you a free online access to IJAR for one month! During this period you have access to the
current issue
and the
online archives
of the journal! Just fill out the short registration form
here
and we will activate your free online access, which will automatically expire after one month. There will be no costs or obligations for you!
Deadline for registration: June 25, 2017
Older Issues (2012 and older):
All full texts of contributions from older issues (2012 and older) - which are not available in the online archives of the journal at Budrich Journals - are freely available at the Social Science Open Access Repository (SSOAR).
______________________________________________________________________________________________
E-Mail Alert:
I would like to receive information on new releases of IJAR: register with IJAR
I would like to receive information on new releases of Barbara Budrich Pulishers: subscribe the newsletter
Information for Readers | Information for Authors | Information for Librarians
Online-Shop Journals | Prices 2017 | Advertising Rates 2017 | Newsletter budrich international | FAQ | Contact